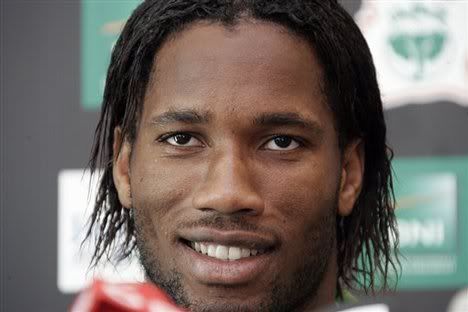 Mr Drogba, who represents Ivory Coast's diaspora on the 11-member commission, said every Ivorian has been affected by the conflict - and he had also lost friends and relatives.
"I hope that in a few years' time people from north from south - from all the different places - they will be able to sit together and say sorry," he said.
"You've got to make people understand that this country is better when there's peace, this country is better when we forgive.
"I want to go back and I want my kids as well to go back and live in Ivory Coast."
Mr Drogba said it was going to be difficult to manage expectations but his influence in the past had shown how "football can bring people together" - pointing to the 2006 when Ivory Coast qualified for the finals for the first time.
Commission chairman former Prime Minister Charles Konan Banny met Mr Drogba on Tuesday in London to discuss the arrangements for the commission.
"We are 11. Didier Drogba is number 11 in the national team. This time it's not a game," Reuters news agency quotes him as telling journalists.
The BBC's John James in Abidjan says Mr Drogba has managed to stay clear of politics in the country even though he comes from the same ethnic group as former President Gbagbo.
He is frequently seen on billboards throughout the country and is by the far the country's most recognisable export, our correspondent says.
In 2007, Mr Drogba set up his own foundation to fund health and education projects in Africa - and is in the process of building a hospital in Abidjan, the city where he was born.
A site has been chosen but construction has yet to begin.
Ivory Coast - the world's largest cocoa producer - used to be seen as a haven of peace and prosperity in West Africa.
But under the surface, the country has long been deeply divided along ethnic, religious and economic lines.
November's poll was intended to fully reunify the country, split in two after a civil war in 2002.
Mr Ouattara has said his government will pursue reconciliation, but there will also be justice for victims of the conflict.
Mr Gbagbo is under house arrest and has been charged with looting, armed robbery, and embezzlement.
Source: BBC News Africa