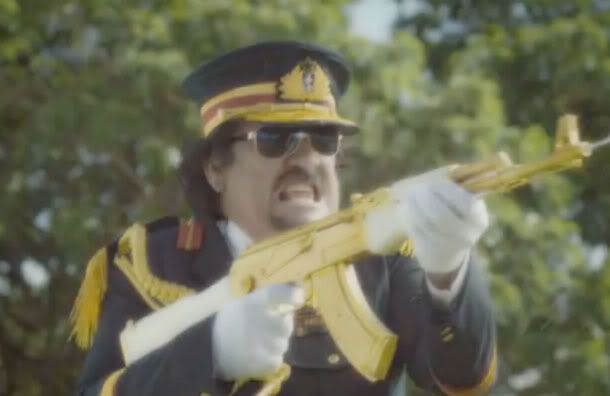 Col.Gaddafi enjoys a water-gun fight with Robert Mugabe in a new TV advert for Nando's. The lonely President of Zimbabwe reminisces about happier times spent with fallen tyrants in the Last Dictator Standing video, promoting the chicken restaurant's six-pack meal.
The comical 46-second clip uses look-alike actors to show the ruthless leader fooling around with other dictators including Colonel Gaddafi and Saddam Hussein.
The commercial starts with Mugabe laying place settings at a dinner table, pausing as he picks up a card for Muammar Gaddafi.
More photos
Mugabe has a water fight with Gaddafi
He slips into a nostalgic daydream, remembering how the pair used to play fight with water guns, with the Libyan leader clutching a distinctive golden machine gun.
Another scene shows Mugabe and fallen Iraqi leader Saddam Hussein half-stripped to swimming trunks, gleefully making 'sand angels' on the beach.
The Zimbabwe leader is also shown giggling as he pushes South Africa's apartheid-era president PW Botha on a swing, as Mary Hopkins' 'Those were the days' rings out.
The dictator makes sand angels with Saddam Hussein
In the last amusing flashback, Mugabe is depicted recreating Kate Winslet and Leo DiCaprio's famous romantic pose from Titanic with Ugandan dictator Idi Amin, while standing on a tank.
The advert ends with a glum-looking Mugabe sitting alone at his dinner table with the tagline "At this time of year, no one should have to eat alone."
Mugabe pushes PW Botha on a swing
The video released by the South African chicken restaurant chain and has already has already been viewed over 66,000 times on YouTube.
One viewer  wrote: 'Lovely, lets all make fun of all the mass killing of innocent lives implied in removing those guys from their countries while we eat comfortably some fu**ing chicken.'
Recreating Titanic with Idi Amin
Another added: "Funny as it is...its the most stooopid market idea from a food chain I've encountered.
"Nando's you do not gain new customers by involving yourselves into highly political polarising divisive issues.. You only lose some of the ones you had!"
Mugabe is left alone at Christmas
However, one added: "This is sick, but I have to admit that I did laugh."
Source: mirror.co.uk