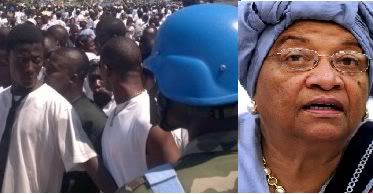 Seriously if you know about Christmas and New Year day in Liberia, It's a day when Liberians from around the country especially the Liberians youths wish for this holiday throughout the year. Many Liberians will do any thing just to be happy to celebrate this holiday until the next day (s).
 According to a Reuters reporter Alphonso Toweh in Monrovia the capital city of Liberia and the main point of all war in Liberia (the Executed Mansion, the resident of Liberians president) currently Pres. Ellen Johnson ordered her security forces to impose a dusk-to-dawn curfew in the capital Monrovia on Friday the 23 of December two days before Christmas in Liberia.
The Government security forces fired tear gas to disperse thousands of youths rampaging through the city, smashing car windows in protest over late payment by the government for part-time jobs.
More On The News:
"The curfew will remain in place until the situation improves," Information Minister Cletus Sieh said. "The government is deeply concerned about this riot. We have called on the youth to remain calm as we seek ways to pay them."
A Reuters witness said youths were smashing car windows with rocks and tree branches and said several United Nations and police vehicles were damaged.
Tensions have been running high in Liberia since President Ellen Johnson-Sirleaf won reelection in a November run-off against her main opposition rival Winston Tubman, who has rejected the outcome as fraudulent.
"We want our money. Ellen must pay our money," said one of the protesters carrying a stone in his hand. "They chop our money. They gave our money to UP partisans," he added referring to Johnson-Sirleaf's ruling party.
Liberia's government has a summer work programme aimed at students and involving manual labour jobs like street cleaning. No details were immediately available about how much it owes in unpaid salaries.

 

Johnson-Sirleaf was recently named co-winner of the Nobel Peace Prize for her efforts at maintaining stability in the war-scarred country, though deadly violence leading up to her reelection has scuffed her image.
Liberia is among the poorest countries in the world, and its infrastructure remains in ruins after years of civil war that ended in 2003, but it has hopes of using revenues from its vast minerals resources to rebuild.
Source: Lartink@beeafrican.info
Contents via Reuters