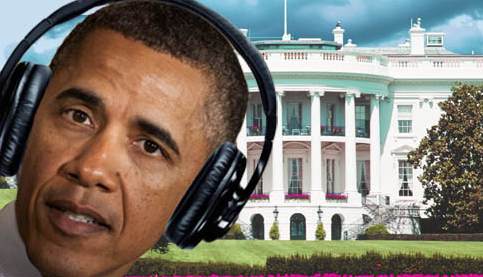 We know that President Obama is quite a sports fan, but he has also referenced a few high-profile musicians since coming onto the scene and laying claim to the White House — think Lil Wayne and Jay-Z, for example. And as the time is now here to begin working on his reelection campaign, he, along with his trusted team of audio enthusiasts, have formulated an intriguing Spotify playlist to coincide with the forthcoming run.
Check the extensive 28-track listing below and then head here to enjoy for your listening pleasure.
LISTEN NOW: Obama's Spotify playlist
01 No Doubt – "Different People"
02 Earth Wind & Fire Experience feat. Al McKay Allstars – "Got To Get You Into My Life – (Live)"
03 Booker T. & The MG's – "Green Onions – Single/LP Version"
04 Wilco – "I Got You"
05 The Impressions – "Keep On Pushing – Single Version"
06 Jennifer Hudson – "Love You I Do"
07 AgesandAges – "No Nostalgia"
08 Ledisi – "Raise Up"
09 Sugarland – "Stand Up"
10 Darius Rucker – "This"
11 Arcade Fire – "We Used to Wait"
12 Florence And The Machine – "You've Got The Love"
13 James Taylor – "Your Smiling Face"
14 REO Speedwagon – "Roll With The Changes"
15 Raphael Saadiq – "Keep Marchin'"
16 Noah And The Whale – "Tonight's The Kind Of Night"
17 Zac Brown Band – "Keep Me In Mind"
18 Aretha Franklin – "The Weight"
19 U2 – "Even Better Than The Real Thing"
20 Dierks Bentley – "Home"
21 Sugarland – "Everyday America"
22 Darius Rucker – "Learn To Live"
23 Al Green – "Let's Stay Together"
24 Electric Light Orchestra – "Mr. Blue Sky"
25 Montgomery Gentry – "My Town"
26 Ricky Martin – "The Best Thing About Me Is You Feat. Joss Stone"
27 Ray LaMontagne – "You Are The Best Thing"
28 Bruce Springsteen – "We Take Care Of Our Own"
​
Source
: BeeAfrican | 
hypetrak.