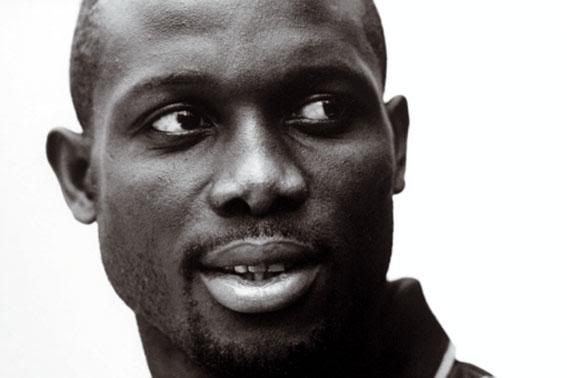 Yes! He did it! Ambassador George Manneh Weah, Vice Standard Bearer of the mighty Congress for Democratic Change, will be graduating from college on June 25, 2011. Ambassador Weah will be graduating as an honor student from the Devry University in Maimi, Florida where he studied Business Administration with emphasis in small business and Entrepreneurship.
RELATED:
Ambassador Weah was admitted into the International Honor Society in Business, Management, and Administration, and awarded a certificate on April 25, 2011 in "recognition of high scholastic achievement."
In a nation like Liberia, where anomie is rewarded by the elite class to dominate all forms of socio-economic and political life, the social inequality gap is so wide between the elite class and ordinary Liberians that poor parents cannot afford to send their children to school.  Thus, poor children have always become uneducated victims of the Liberian society.
The uneducated victimization of poor children is use by the elites to deny 'the poor' basic human decency in Liberia. Poor children are condemned to a life of street urchin; this was the case with Ambassador George Manneh Weah.
Now Liberia's most famous and patriotic son; Ambassador George Manneh Weah was born in the Clara Town slum of Monrovia, the capital of Liberia and raised by a poor grandmother.  Like many of Liberia's children, Weah lived a dehumanizing life, with its odd challenges at a much tendered age, forced Weah into degrading street trade-to help his grandmother support the family. Weah sold empty bottles from the garbage, he sold cool aid; short bread for a Ghanaian lady to help paid his school fees.
He was a smart kid in school but soon his talent on the soccer field would catch the eyes of international soccer scouts, forcing Weah to make a tough called. He abandoned school just upon reaching the end of high school, to pursue a career in soccer. "I had to make that choice because my grandmother needed the money to help support the family," Weah says. 
Soccer paid off and Weah climbed to the top of his profession, becoming a three times African Player of the Year 1989, 1994 and 1995, both European player and FIFA World Player of the year in 1995, and also Onze Mondial 1995 Player of the Year.
These successes brought with it wealth and fame, but ever a humble man, Weah never forget his roots and used his star-power and wealth to help the poor in his country. Weah became a humanitarian, creating a scholarship program that continue to help poor children not just complete high school but go to college, an opportunity that Weah himself never had, as the son of a poor grandmother.
Weah became an Ambassador for Peace in his country when the elite class waged a fratricide war upon the poor, in the name of political revolution. The war the elite started went out of control and it was George Manneh Weah who left his United Nations assignment to go into the bushes of Liberia and led a disarmament peace process. He promised the mainly youthful militants that he would lead a struggle for social justice and equal opportunity in Liberia.
In 2004, sensing the old political establishment, which unleashed the bloodletting of the nation was preparing for election, the majority poor population of Liberia petitioned Weah to represent their interest as a presidential candidate. Weah accepted and entered the presidential race through the formation of a new political party-Congress for Democratic Change.
Weah and the majority poor population, again suffered the victimization of college uneducation - the election results would show disparities in the voting process and mismanagement leading to an election dispute, in which, for the sake of peace-Weah and the Congress for Democratic Change conceded defeat. But Weah made another promised, "I am going back to school and we will continue this struggle for social justice and equal opportunity."
Indeed, forever the man of the people, Ambassador George Weah submitted himself to the rigorous academy of a college education. And combine with all of the crude political challenges he suffered, over the last several years, in the Liberian political theatrical, Ambassador George Weah overcame the odds and finally rubbish the criticism of his political opponents, by completing a college education.
This is why the Standard Bearer of the Congress for Democratic Change, Cllr. Winston Tubman is leading a high power CDC delegation, on the invitation of Ambassador Weah, to Florida, the United States of America, for the graduation ceremonies on June 25, 2011.
The office staff of Ambassador George Weah is very proud of this great accomplishment, and we extend our profound congratulations to Ambassador Weah for achieving yet another milestone in the struggle for social justice and equal opportunity for all Liberians.
Muyan, CDC Muyan! Muyan!
Muyan, Manneh Muyan! Muyan!
Source: Office Staff Of George Weah