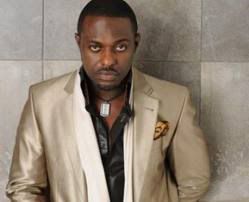 Am sorry for giggling at first, but this caught so many of us unawares. Infact, I am still confused and I don't know why (:s)... Ok, lets get straight to the point.
It has been said that he (Jim Ikye) is the most popular and versatile Nollywood celebrity, the ROMATIC FANTASY of every single woman who saw his movies (cracks throat - no be me talk am o).
According to his official website, " Jewel for Jim" is a nationwide search for a "rare gem", a cultural and social ambassador, a lady of substance, a role model who personifies a perfect blend of the traditional and modern mind, a great talent, a Princess fit to be soul mate to Africa's most eligible bachelor Mr. Jim Iyke Jewel for Jim will present and document unscripted dramatic and sometimes humorous social experiences, situations and/or events, while featuring beautiful women of all races, cultures, ethnic groups, religions and sects, struggling to excel at specific tasks and contests with the ultimate goal of winning Jim's heart and crowned "The Jewel".
Below is the promo video ' JIM IYKE IN NEW YORK. JEWELFORJIM '
PARTICIPATION CRITERIA
•Must be Single
•Minimum age is 21
•Must agree to "JewelForJim" terms and conditions
•Must posses a special skill
There have been lots of interesting comments on this reality show by Nigerians home and abroad, but the most facinating one that i have seen yet should be from Bella Naija (which i think you should check for laughs at your spare time).
Source: Bimbi Blog