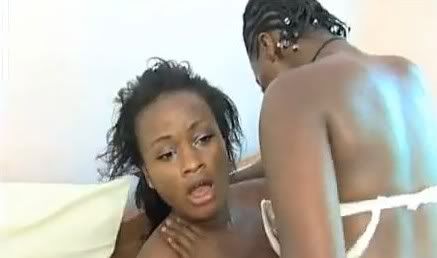 The rate at which Ghana churns out Adult films through Nollywood is now alarming. Ghanaian filmmakers have either topped the notch with a plan to conveniently cater for their audience as they have shut out Nollywood with a fee for every Nollywood movie project or they are bluntly ignorant.
'Hot Fork', a Ghanaian movie production hit the fans amidst mixed reactions following explicit sex scenes. Ghollywood is not done with selling sex as another movie is to be released soon.
TRAILER: TRAILER: Adults Only - Ghana Movie (WARNING) or see it below
The movie is titled "Adults Only" and also showcases what a fellow blogger calls 'veteran actors' in the Ghanaian movie industry. The movie is centered solely on countless sex scenes including scenes with lesbians (as seen in the picture above and trailer below).
Personally, I think Ghollywood is taking the wrong turn if they are geared towards developing and improving their own industry. Yes, it may give them immediate fame and cash but it will definitely disturb the growth of the industry, because it was never recorded that Adult rated movies sustained Hollywood, Bollywood or even Nollywood's development.
Its either they improve on their creativity or enjoy this fame and money they are presently getting while it last. Hot Fork (preview video below) sold out, the Movie maker expects 'Adults Only' to outsell 'Hot Fork'…
(WARNING) FOR 21 & UP
BeeAfrican is not responsible for any content from this video.
Source: GhanatoGhana