The release of the video 'Fall in Love' by Mo Hits crew strong man, Dapo Oyebanji (D'banj), where the singer was seen kissing and necking popular actress, Genevieve Nnaji paved way for months of tales and rumours! Still the buzz has not died down. The video which was followed by an incredible link of the two as lovers hit the entertainment industry with people feasting on the news that instantly became hot item for celebrity and entertainment journals, not leaving out the blogs and other news sites on the internet.
The romance, believed to be a gimmick to attract sales and give D'banj a hype based on the international recognition of Genevieve Nnaji who is also on the height of her career judging from a profile-cast of her by American TV host, Oprah Winfrey on her show, really hit the target with people falling for the line that the duo had indeed, fallen in love.
Another twist to the tale was that Genevieve was paid N2 million by the Mo Hits crew for the role she played in the video and that D'banj actually wanted more than an acting role as he plotted to woo the actress into a relationship.
Lending credence to this was the MAMA awards 2010, where they both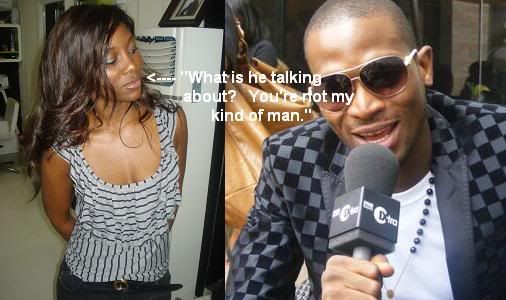 presented an award. The stylish singer made bold his act when he told his co-presenter, Genevieve, right on stage if she knew they we-are the hottest couple in Nigeria, and the actress, who wore an embarrassing look, clearly avoided the question.
Further investigations revealed that the duo had a brief romance which wasn't really serious before the actress blew the whistle on whatever 'deal' she had with the singer.
Presently, it is said that the actress, for some time now, has been avoiding D'banj as she reasoned on the effect the love-tale might in the end have on her career.
Source:pinnaclegh