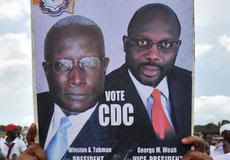 MONROVIA (Reuters) - Winston Tubman said on Friday he would not take part in Liberia's planned November 8 presidential run-off vote against President Ellen Johnson-Sirleaf but the election commission said a vote would take place anyway.
Tubman, a Harvard- and Cambridge-educated lawyer who worked at the United Nations, said the election process was biased against him and called on supporters to take part in a peaceful protest on Saturday and to boycott the vote next week.
He also said he would not recognise any government formed as a result of the polls. But the election commission chief said nothing would stop the poll from taking place as planned.
Johnson-Sirleaf's camp said Tubman was boycotting a poll he knew he could not win but said Liberians would not allow their country to be dragged into further trouble.
The culmination of Liberia's second post-war poll -- which will test progress in stabilising a nation that is rich in minerals but was crippled by years of war -- has been marred by allegations of bias at the election commission.
The previous head of the commission resigned last week after Tubman's party complained it was biased, but Tubman said problems remained at the body.
"We refuse to participate in the November 8th run-off election. We will never reward fraud and abuse of power and will never grant legitimacy to a corrupt political process," Tubman told reporters in Monrovia.
Tubman called on his CDC party supporters to don white clothes and hold a "vigil for peace and transparent elections" on Saturday before boycotting the poll next week.
"Any government coming out of the November 8 process will be one without a national mandate to govern and will not be recognised by the CDC," he added.
The regional body ECOWAS has warned that a boycott risked destabilising Liberia and called on Tubman not to pull out of the process. Tubman flew to Nigeria for talks with ECOWAS this week but they appear to have failed.
POLLS STILL ON
The polls are the second post-war elections since 14 years of on-and-off conflict ended in 2003.
Johnson-Sirleaf, recently named winner of the Nobel Peace Prize, has been credited with stabilising the country since coming to power after the last election. But critics say change has not come fast enough and corruption is still rampant.
Billions of dollars in deals for mining and oil exploration rights have been signed but many people lack the most basic of services in the country of just under four million.
The election commission said Tubman's boycott would have no impact on the holding of the vote.
"We are calling on all peace-loving Liberians to turn out in their numbers to come out and vote on Tuesday," election commission chief Elizabeth B. Nelson told Reuters by phone.
"Nothing will stop the elections from going ahead as planned," she added.
An ECOWAS official said the regional body would make a statement on Saturday.
Wilmot Paye, secretary general of Johnson-Sirleaf's Unity Party, said Liberians were not ready to return to the "dark days" of their violent past.
"Maybe they (the CDC) think by dong this, they will create a constitutional crisis. But there will be no constitutional crisis," Paye told Reuters.
Confidence in the country has steadily grown and foreign mining and oil firms are preparing to pour in billions more dollars to develop resources in the West African state.
But frustrations over poverty simmer and a U.N. peacekeeping force is still central to security as the national forces are rebuilt from scratch after the war.
Source: Reuters Africa