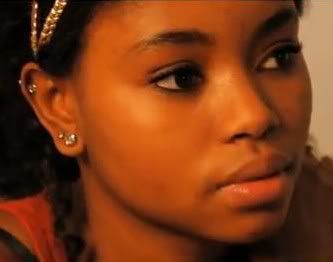 Sierra Leone sexy new female artist/model Heyden Adama drops her new hit single 'Love is blind' from her upcoming album title 'Fit In Gbet' in stores June 2011. The song love is blind is a soul touching love story music for all ages, especially those that are some so deep in love. 'Love is blind is a song about a deep feeling for someone that you love" Heyden Adama says during a phone interview.
Heyden Adama told BeeAfrican.com that her new music video project will be more intense than the first two music videos.
WATCH: Heyden Adama - Love is blind or see it below
---
Bio: Heyden Adama Bangura via facebook
what can i tell you about me. i am the wind, which means i connot be tamed. I come and go as i please and i love and learn as i live. little things make me smile, thoughtful things make me cry. no one can put a label on my life because at the end of the day it is not you that i must answer to, it is me and my God. so what you say and think about me has nothing to do with me. if you hate me i love you, you do so because i am better than you. if you love me i am thankful because you help me grow to becoming someone that will help change the world one day. i am me. Heyden Adama Bangura. and i am here to stay.
Source: Lartink | HaydenAdama