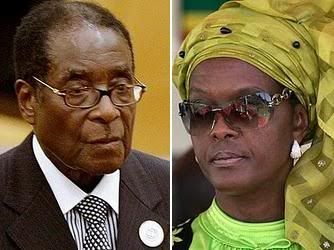 Mugabe's second wife, who was his former secretary and 41 years younger than the president is allegedly having an affair with 50yr old Gideon Gono, head of the country's Central Bank.
Mugabe's 86 for goodness sake...what did he expect? Obviously he can't do anything for her anymore...:-)
That's no excuse to cheat abi? :-) Anyway, read the full story after the cut...
The wife of Robert Mugabe has been having a secret affair with one of her husband's best friends, it was claimed two days ago.
Grace Mugabe – who is 41 years younger than Zimbabwe's 86-year-old president – has spent the past five years cuckolding him with Gideon Gono, head of the country's central bank.
The couple would meet as often as three times a month either at her dairy farm or in expensive hotels in neighbouring South Africa.
Gono, 50, is now said to fear for his safety. 'Once he (Mugabe) hears
something like that, I think someone will go to meet God,' said one Zimbabwean intelligence official.
It is not the first time Mrs Mugabe, who is widely reviled inside Zimbabwe for her lavish tastes and expensive shopping sprees, has conducted affairs behind her husband's back.
One former lover, Peter Pamire, died in a mysterious car accident. Another, James Makamba, fled the country.
Gono has known Mrs Mugabe, who married the president in 1996, for at least 15 years and they are partners in a number of business enterprises.
He is a pillar of the Zanu PF party that has held on to power in Zimbabwe since its 1980 independence from Britain.
As one of Mugabe's most trusted friends, he has served since 2003 as head of the Reserve Bank of Zimbabwe – a period that saw the country's currency suffer hyperinflation of more than a billion per cent a year.
While many of Zimbabwe's desperately poor people struggle to find enough food to eat, Gono lives in a 47-bedroom mansion with swimming pool, gym and its own mini theatre.
Yesterday a source close to the banker confirmed that he and the first lady were lovers and claimed they had planned a life together after Mugabe's death.
The senior official in Gono's office told South Africa's Sunday Times newspaper: 'Mugabe trusted Gono. He even thought our boss was taking care of the first lady, keeping a protective eye on her so that she could not again be adulterous.'
Mugabe's relationship with Grace, his former secretary, is itself founded on infidelity.
Two of their three children were born when Mugabe was still married to his popular first wife, Sally, who was battling a kidney disease from which she died in 1992.
Source: Daily Mail UK